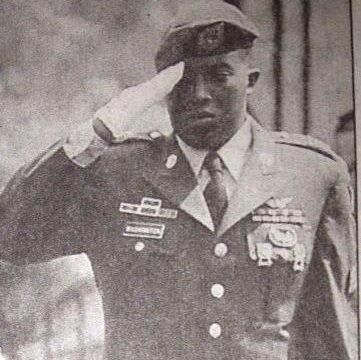 Jerome Washington is a Combat Veteran of the United States Army, having served our nation proudly as a Screaming Eagle of the 101ST Airborne Division (Air Assault).
He participated in multiple operations while in service to include Operation Iraqi Freedom and support of Operation Enduring Freedom. Duties included leading his squad/section in different task forces, such as, Long Range and Surveillance Detachment and Downed Aircraft and Recovery teams. Additionally, he assisted leading Civil Affairs Teams where he was responsible for establishing positive working relationships with non-compliant and friendly forces.
In 2006, he was medically discharged following injuries sustained while serving our nation.
Jerome is married to his wonderful bride and angel, Charise Washington, and they have 5 wonderful children; 3 girls and 2 boys. Charise is also a combat veteran who served our nation in operations in Iraqi Freedom and Enduring Freedom.
He currently serves at Perfect Peace Community Church as the Assistant Pastor in Sparks, Nevada. Within the congregation, he oversees daily operations and ministries, and preaches and teaches the gospel to others. He provides spiritual guidance and counseling, lead prayer, ministers to the sick and to those in need, and provides assistance to the Senior Pastor with his duties and responsibilities.
Jerome has a Bachelor's Degree in Criminal Justice Administration with a concentration in Human Services, but his chosen career since 2010 has been focusing on serving veterans, veteran dependents, and surviving spouses as he is employed by the Department of Veterans Affairs as the Congressional Analyst for the state, as well as the Outreach Coordinator for Northern Nevada and portions of California .
Beyond his professional duties, he frequently volunteers to feed and care for those in need and provides assistance through various methods of community services. He is often found assisting veterans and their family members with perusing benefits and assistance as well as partaking in several community initiatives to raise awareness for suicide prevention.
He is a member of Veterans of Foreign Wars where he currently serves as the Commander of Silver State Post 3396 in Sparks, NV, as well as he serves as the State Chaplain. He also serves as the Department Senior-Vice Commander of the Disabled American Veterans and is a member of the American Legion, American Veterans (AMVETS) Association, and other non-profit organizations.
His hobbies include traveling with his family, barbecuing and cooking, fishing, and riding motorcycles.